Webshop
Exclusief topSlijter
Aanbieding
Laphroaig 18y Old Particular "Consortium of Cards" 1st edition Queen of the Hebrides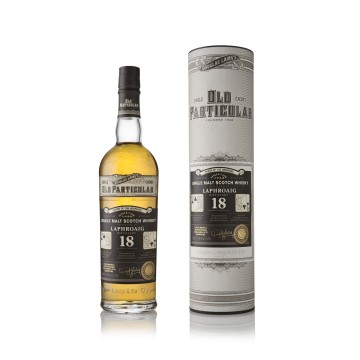 Douglas Laing Reveals Old Particular "Consortium of Cards" Collection
Douglas Laing & Co, the leading independent Scotch Whisky specialist, today unveils its Old Particular "Consortium of Cards" Single Cask Scotch Whisky Collection. This, the first limited edition series within Old Particular, is themed around a deck of playing cards. Four releases are planned for 2017, and the series launches with the "Queen of the Hebrides", an Old Particular Laphroaig 18 Years Old.
Fred Laing, the firm's Managing Director and second generation in the Douglas Laing family business, denotes "Richly peated barley on the nose with a tarry, ashy palate and a finish full of chimney soot" in reference to this Old Particular Queen of the Hebrides bottling. Charged from a single refill butt and bottled at 50% alcohol strength, just 665 bottles are available, with each one displaying a specially commissioned "Queen of the Hebrides" illustration.
The Queen of the Hebrides is one of a "full house" of single cask releases from Douglas Laing's Old Particular this quarter, comprised of 15 single cask malts and 5 single cask grains. The quintet of single grain bottlings includes a Cameronbridge 25 Years Old, in which Cara Laing detects "bread and butter pudding, exotic spices and juicy red apples". The single malt contingent delivers aged and rare bottlings from Speyside, the Highlands and Islay. Among them, an Old Particular Glen Grant 21 Years Old that promises "cinnamon apple pie, vanilla cream and spicy oak", and a Bruichladdich 11 Years Old charged from a Sherry Hogshead that boasts a "big PX Sherry hit", according to Fred Laing.
Old Particular, an award-winning series of individually hand-selected aged Single Casks from all over Scotland, originally launched in 2013, and the family Scotch Whisky firm now sells the brand in over 50 markets globally. Each is bottled according to the founders' philosophy of topmost quality: Old Particular is always proudly presented without colouring and without chill filtration – allowing the cask and the naturally present oils and enzymes in the spirit to make their own special contribution to its nose, mouthfeel, palate and finish.
Old Particular bottlings, including the "Queen of the Hebrides" special edition, are available from specialist Scotch Whisky retailers globally.
€ 
199,99
Fles
Huidige voorraad: 1
In winkelmand
Etiketinformatie
Land van Herkomst

Schotland

Inhoud

70 CL

Alcoholpercentage

50% vol

Soort whisky

Single Malt
Er zijn nog geen reviews geplaatst voor dit product